Personal Hygiene is important to our physical and mental health. In terms of physical health, a clean body helps reduce the chance of getting sick, and makes us feel at ease and relaxed. On the mental side, when a person feels good and has greater self-confidence, he or she will find it easier to communicate with others.
As we age, we need to shift our focus from personal hygiene to personal care. Apart from keeping a healthy and tidy image, we also need to cope with the changes in our body and take good care of ourselves.
Personal care includes
oral care
,
skin care
,
foot care
as well as
bathing.
Skin care
When the weather gets too dry, the skin may form scales, and if the situation gets worse, the skin may get cracked and give rise to itchiness and even bleeding. For elderly persons, their skin itself is already quite dry and so more attention should be given to the proper care of the skin.

For good skin care, do apply moisturizers such as Vaseline or skin-care products with adeps ovillus to the parts which are particularly dry. During cold seasons, attention must be given to indoor humidity level especially when we have turned on the heater.
When the skin is dry, it may become itchy. The itchy areas are mostly on the face, neck, hands, forearms, two sides of the waist, outer part of the thighs, and feet. Once we start to scratch the itchy areas, those parts of the skin will be easily exposed to bacteria and get infected. One way to prevent the skin from itching is to avoid wearing hairy woolen clothes right next to the skin.
Keeping our body healthy and clean is undoubtedly the best way to take care of our skin. For those who sweat a lot, they should take special care of their armpits, underparts, and feet. They should also wear clothes which are less sticky and can allow sweat to be absorbed easily. Besides, we should also form the habit of bathing daily.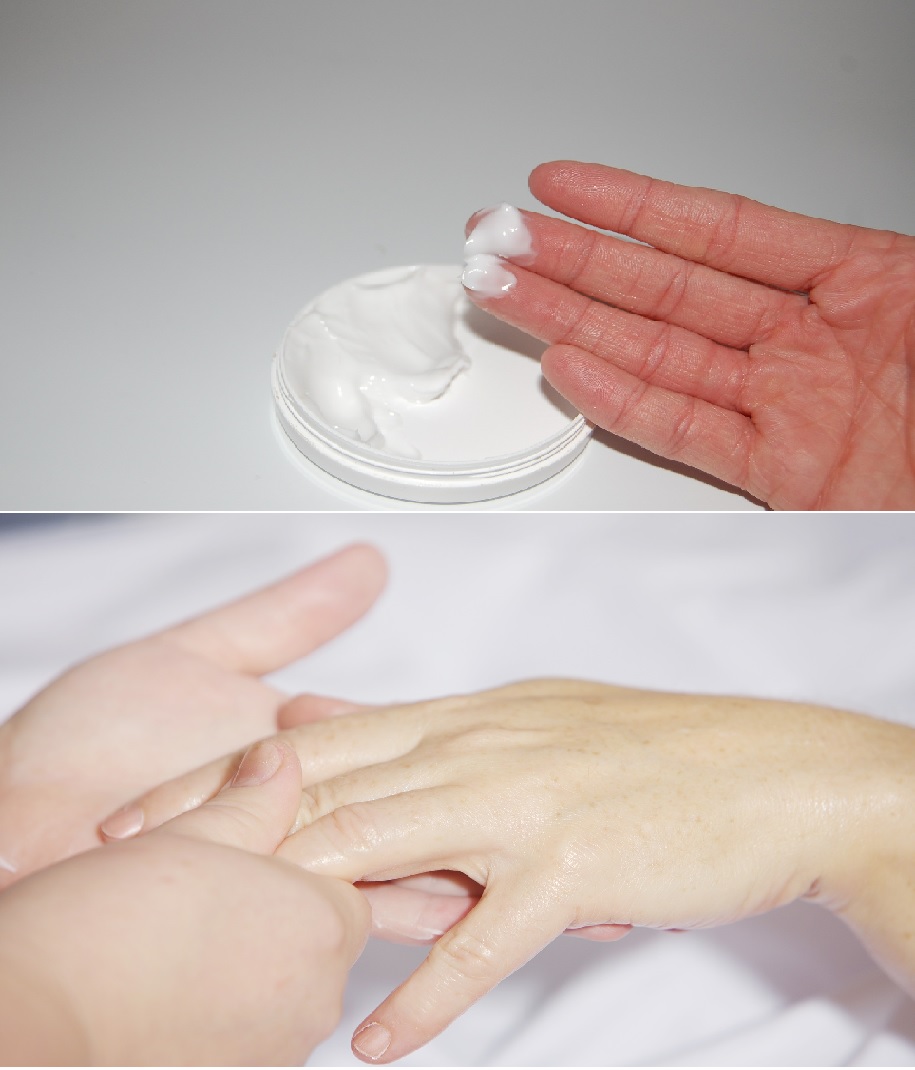 Tips for keeping our skin healthy:
Drink more water
Have a healthy diet
Keep our body clean, crisp, and comfortable
Avoid getting wounded or injured
Wear gloves and socks during cold weather. Use gloves when submerging our hands in cold water during cold winters.
For those with diabetes or peripheral vascular disease, they should watch out for any change of their skin tone towards purplish in colour. If the situation is serious, it may mean damage of the limb tissues.
In taking care of an elderly person who needs to use diapers, the caregiver should change the diaper as soon as it gets wet. The caregiver should apply moisturizing cream, such as Vaseline or ointment that helps prevent rash, on the elder's hips and underparts. The caregiver must perform regular checks of the elder's skin to ensure that immediate professional advice is sought when there are signs of inflammation, peeling and tearing.
Foot care
Foot care is about how to keep our feet clean and what to do with shoes and socks.
To keep our feet in a healthy state, we need to wash them daily with warm water. However, the feet cannot be soaked in water for too long. We should wipe dry them afterwards especially in-between toes. If the heels are dry, we may apply moisturizer on them but not in-between toes. Pruning nails is also a must for feet care. The toenails should not be too long or too close to the nailbed. We shall prune the nails straight across and then use a nail file to produce a slight curve at the two corners. If the edge of the nail is too sharp, we should try to blunt it. Moreover, doing some foot exercise is good for our feet.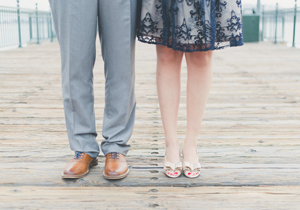 Regarding shoes and socks, first, we should wear cotton socks to keep our feet warm. The texture of socks ought to be airy and absorbent. The socks need to be washed frequently to ensure good hygiene. Also, choosing a suitable pair of shoes is a vital part of foot care, as described below:
Shoes should be of the right size, with about one finger's gap inside the shoe
The toe cap of the shoe should be round, broad and made of soft material, such that the toes can lay flatwise and move slightly inside the shoes
Shoes cannot be too loose, as it will increase the abrasion of skin and give rise to callus
The two sides of the shoes should be firm so that they can support the entire feet with less risk for twisting
The shoes should provide solid support for the feet
The soles should not be too soft, and the heels should be about 1/2 to 1 inch higher than the front part of the feet
We shall put shoe-pads inside the shoes to disperse our weight evenly on the feet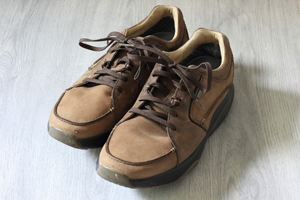 Common foot problems


Onychomycosis (Toenail infection)

The cause of gray toenail is bacterial infection of the nailbed or the nail. If the toenail is infected, it will appear in gray or brown in color, or even wither and get thick. One remedy is to apply some medicine, prescribed by doctor, on the infected area. If the infection is serious, a minor surgery may be necessary to remove the infected part of the toenail.


Tinea pedis(Athlete's foot)

Athlete's foot is a common infectious foot disease in Hong Kong during summertime. Its cause is fungal infection of the skin of the feet. The prevalent symptoms include blister, itching and skin peeling.


Preventive measures:



Keep our feet clean and dry, especially the seams in-between toes
Wipe our feet dry after washing/li>
Do not wear the shoes and socks of others
The shoes and socks should be crisp and are in suitable size
Wear a new pair of socks every day and wash the old one with hot water
Put the used shoes in a ventilated area, in order to dry them
Use foot medicine according to the instructions of doctors
If necessary, use gauze to separate the toes



A clean body is an important part of personal care. Generally speaking, we should aim to wash our body every day. Even if it is not possible, we should try to wipe our body. When taking a bath or shower, we need to pay attention to the safety. On the one hand, we should avoid catching a cold.
On the other side, we should be careful about the bathroom condition and avoid getting slipped.
Preparation before taking a bath or shower


First of all, we should make sure that the bathroom is warm. When the weather is cold, we can switch on the heater to increase room temperature of the bathroom.

Before taking off our clothes, we need to ensure that the water heater is adjusted to a suitable temperature and the water that splashes on our body is neither too hot or too cold.



In addition, we ought to take every step to prevent slipping down. For instance, we must make sure that the floor is not wet. We can place a bath mat on the floor and a shower mat in the bath tub, and install handrails in the bathroom.

To avoid slipping down, we may sit on a commode chair or a stable plastic chair when taking a shower. By doing so, we can reduce the chance of getting off balance.

The shampoo, body wash, and other bath products shall be placed within reach. So is our clothing which should be stacked in an orderly manner with the most frequently used items such as underwear placed at the top or in the front.



Precautions for taking a bath or shower


When we take a bath or shower, we should clean our body starting from the eyes and face, then the arms, chest, tummy, and lastly legs, back and hips.

Talking about the temperature of water, the appropriate level for shower should be 36.5℃, whereas for bathing, it should be around 43℃ to 46℃.



When we clean our body, we ought to use more moisturizing soap and body wash, and finish it with bathing products but without too much scrubbing. When the water used to wash our body gets dirty especially after washing the private parts, we should change the water.

Lastly, the bath or shower should be taken at least one hour before or after each meal. Otherwise, it may affect our digestive system.