Written by Natalie Wong, Translated by Alistair Woo
In this fast-paced society, everyone works nonstop for survival in life. A group of young Hong Kong parents understand that their children are growing fast, so they cherish their young children's time. On the other hand, they want to accompany their older parents and show their filial piety. Who doesn't want to have three (or even more!) generations of family members all feel happy together? Sadly, life is compelling, and various situations may lead to not always being able to accompany one or the other or both.

However, we always agree that having more time to spend with family members is an important part of improving the quality of life. In fact, if you want to temporarily abandon the tedious life of the week, it is not difficult to do it easily. Hong Kong's Sino-Singapore Group, located on the Gold Coast of Tuen Mun, has a leisurely resort called "Gold Coast Hotel", which is believed to be like an "oasis in the city". On weekends or short holidays, you can take your family away from the hustle and bustle of the city, and you will be surrounded by green gardens to relax and have fun.
The Gold Coast Hotel has a wide range of facilities and services to indulge in, with family fun from the age of three to eighty. If a family wants more time to enjoy the beauty of the sunset evening, consider staying for a day or two. One of the highlights of the Gold Coast Hotel is that even single beds are quite spacious and can lead to a great night's sleep, and that's not to mention both spacious and comfortable queen sized and king sized beds!
10 Different Children's Rooms, Making Dreams Come True
The hotel offers different themed rooms for guests (particularly children) to choose from. Whether your child loves trains, tram, carnivals, dinosaurs, or wants to be a princess, pirate, or think of forest and space adventures, walk into the hotel room to let the children enter their dream world and live their story where they are the protagonist.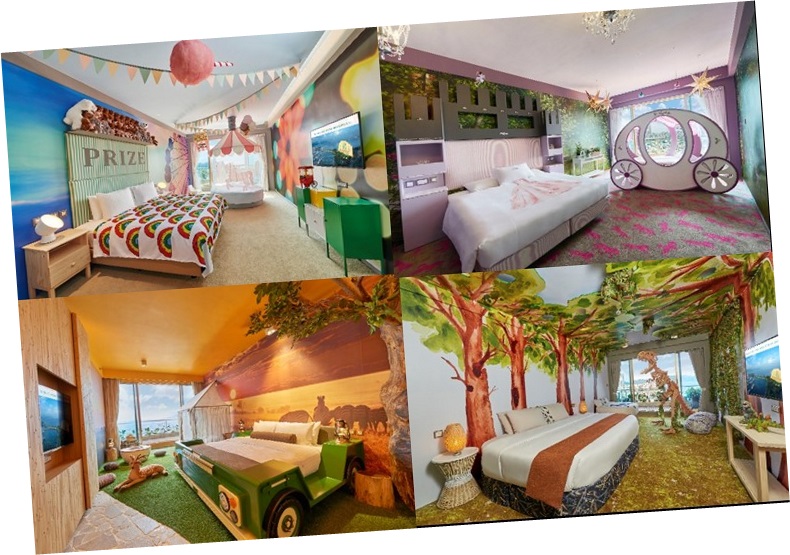 Theme Park In The Summer
Additionally, the hotel will launch a theme park every summer. This year, the theme is the famous "B Duck"! The park offers themed activities and a lot of great areas to capture cherished memories in photographs. Children can enjoy the special ride "Electric Current" as it is an ideal parent-child activity similar to a train ride. The theme park has workshops, an outdoor paradise and exquisite afternoon tea, so you're sure to find something entertaining at every hour of the day.
Only Several Steps Away From The Golden Beach
Aside from catering to the children's needs, sometimes adults need their time to unwind as well. Just a few steps away from the hotel is the golden beach, with a vast view and features a barbecue area and volleyball court. Imagine - three generations of the same family barbecuing together, or taking a nice walk together while enjoying the sea breeze and beautiful sunset - doesn't that sound great?
Extremely Accessible
If you are travelling from Tsim Sha Tsui or Central, the hotel is only 25~30 minutes away. The hotel also provides scheduled shuttle buses to and from Tsim Sha Tsui, Tsuen Wan, and Tsing Yi MTR Station. As for groups travelling by private arrangements, apart from the hotel's parking service, the parking spaces near the hotel are also adequate and can meet different needs, from motorcycles to disabled parking.
So in conclusion, though you should also remember to work hard, don't forget to stop and smell the roses along the way, enjoying holidays with your whole family. And once you've "charged" your personal battery, you and your family will be more motivated to move on and continue living your happy and healthy lives!