Hong Kong is facing a rapidly ageing population. Many people in the green-age group have become caregivers at home to look after elderly relatives. This can expose us to immense physical and mental strain if the elderly persons are physically disabled. Very often, caregivers hurt themselves while transferring and repositioning the elderly in an incorrect manner. The most common injuries caregivers experience are back or neck injuries. Sometimes the incorrect maneuvering of the elders may cause safety hazard to the elders themselves.
So how are we able to move the elders safely and at the same time protect ourselves from injuries? In Golden Age Expo & Summit 2018, we met a team from Associated Medical Supplies Co Ltd (AMSCL). The company strives to provide high technology and user-friendly medical rehabilitation products to public in order to improve the quality of life of users.
We interviewed Miss Cathy Chow, who showed us how to use a transfer aid 'Beasyboard'. She said: "The board is a lateral sliding, no-lift transfer equipment. The surface of this board allows the user to glide easily. No lifting or moving of the user is required, which means that the danger of injuries to the user or caregiver is reduced." Cathy said: "Because the seat rotates a full 360 degrees on the base and it is round in shape, the inclined design helps move the subject easily towards any direction, with the friction of the movement borne by the system and not the user. This prevent the skin from being injured as well. The Beasyboard has a waterproof service and is fully washable. Cathy said:" It can carry a weight up to 400 lb."
Cathy added, "There are 3 types of Beasyboard which can cater for different situations for transferring users effortlessly. "
Three types of Beasyboards
The three types of Beasyboard are: BeasyTrans, BeasyII and BeasyGlyder. Each one of them has special functions and characteristics.
BeasyTrans looks like a skateboard, with a long-length design that can be used in both horizontal and vertical holding positions. It is ideal for moving the subject over a long distance, e.g. from a car seat to wheelchair, or further to a bed.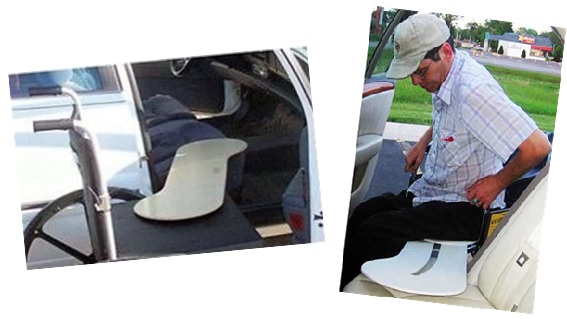 The design of BeasyII is similar to BeasyTrans, just it is a little shorter. It is more suitable for short-distance transfer such as from a wheelchair to a toilet seat, or lateral sliding on a long chair or sofa from one end to the other.
The third type is BeasyGlyder. The shape is different from BeasyTrans and BeasyII. The curved sliding design is also suited for short-distance transfers, e.g. from a wheelchair to a seat which is of a different height. BeasyGlyder is flexible to adjust the appropriate angle and is designed to make transfers of patients easier. It also solve the problem of transferring a patient to a chair with arms which are not removable.
Cathy said: "High-back chairs with non-movable armrests are often used in nursing homes. As far as I know, some nursing homes like to use BeasyGldyer as it makes their job of transferring an elder from a wheelchair to a high-back chai so much easier. "
Who are the persons more suitable for using Beasyboard?
Can it be used for transferring fragile elders with very limited mobility?
Cathy said: "Basically, Beasyboard is suitable for all people with varying physical mobility limitations". She explained: "For those wheelchair users with better physical mobility, they can use Beasyboard without the assistance of others. It is a portable transfer board, so it can be put inside a bag which goes with it and hanged at the back of the wheelchair when not in use. Then the users can come and go freely and independently, with their mobility highly enhanced. For those with poor physical conditions, the caregiver and the user should separately put on their transfer belts with hand grips in order to allow both to secure support when transferring the user in a smooth lateral movement. This process reduces unnecessary body contact."
She said, "I have witnessed how a nursing home staff turned a completely disabled patient into a final position on her own by using Beasyboard. "
Are there any instructions that we must read carefully before using it?
Cathy reminded the caregiver or user who is going to use Beasyboard to note the following two points:
She suggested to put something beneath the transfer board so that the two ends could be at more or less the same level. Alternatively, some kind of anti-slip pads can be placed in-between the board and the seat to make the gliding effect more secure and it also helps in fixing the position of the Beasyboard.
"If anyone is interested in Beasyboard and would like to learn more about the application, please refer to our video
Beasy Transfer Board Instructional Video
"
Taking care of immobile elderly persons at home is a challenging journey. The proper use of transfer aids is essential for the caregivers, not only in reducing their stress but also providing better quality of life for disabled elderly. It is good news for both.
Interviewing & reporting: Wong Yee Man